Hailey Bieber Weighs In on Justin Bieber's Clashing Outfit Choices!
Hailey Bieber doesn't mind her man stepping out with Drew House slippers and sweats! 
In August, the model and her husband, Justin Bieber, sparked online chatter during a day of press in New York City. At the time, Hailey was promoting her Rhode Beauty line and stunned in a sexy red dress. Justin walked proudly alongside his wife in a sweatsuit and Crocs.
Mrs. Bieber didn't mind.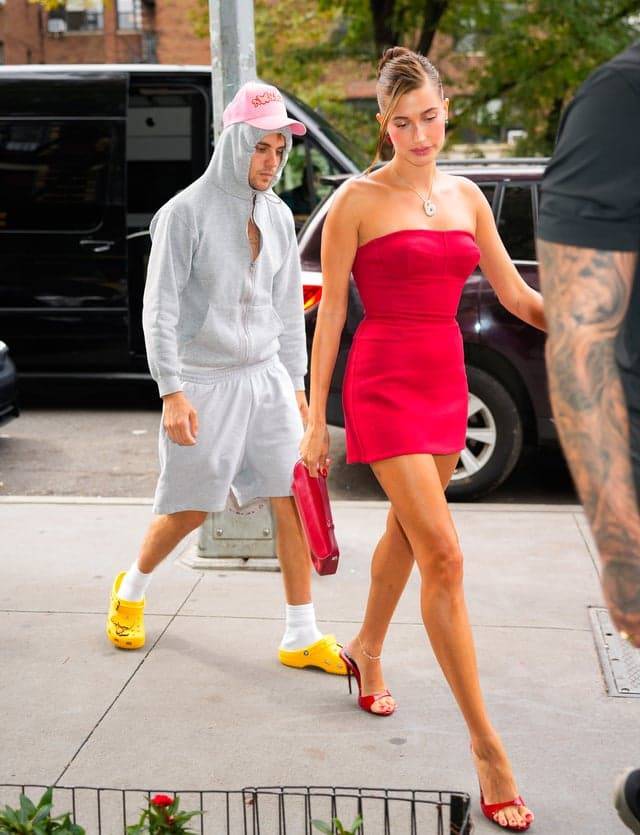 "It's so funny because I see so many people talk about this," the 26-year-old model tells GQ Hype about the viral chatter. 
Hailey notes that the "Yummy" singer is typically dressed before her, and their individual styles often reflect their moods.
"He may want to wear baggy sweats to dinner, and I might want to wear a tiny little dress just because that's how I'm feeling," she says. "We can't sit there and be like, 'So I'm going to wear this and you're going to wear this.''"