Step 1
Preheat oven to 325º and grease an 8" or 9" springform pan with cooking spray. Make cheesecake filling: In a large bowl using a hand mixer (or in a stand mixer using the paddle attachment), beat cream cheese and brown sugar. Add eggs, one at a time, then sour cream, flour, vanilla, and salt.
Step 2
Make crust: In a large bowl, mix together graham cracker crumbs, melted butter, brown sugar, and salt. Press mixture into prepared pan.
Step 3
Pour filling over crust. Wrap bottom of pan in aluminum foil and place on a baking sheet. (If you want to bake the cheesecake in a water bath, wrap bottom of pan and place in a deep baking pan. Pour in enough boiling water to come up halfway in the baking pan.) Bake until center of cheesecake only slightly jiggles, about 1 hour 30 minutes. Turn off heat, prop open oven door, and let cheesecake cool in oven, 1 hour, then remove aluminum foil and refrigerate cheesecake in pan until firm, at least 5 hours and up to overnight.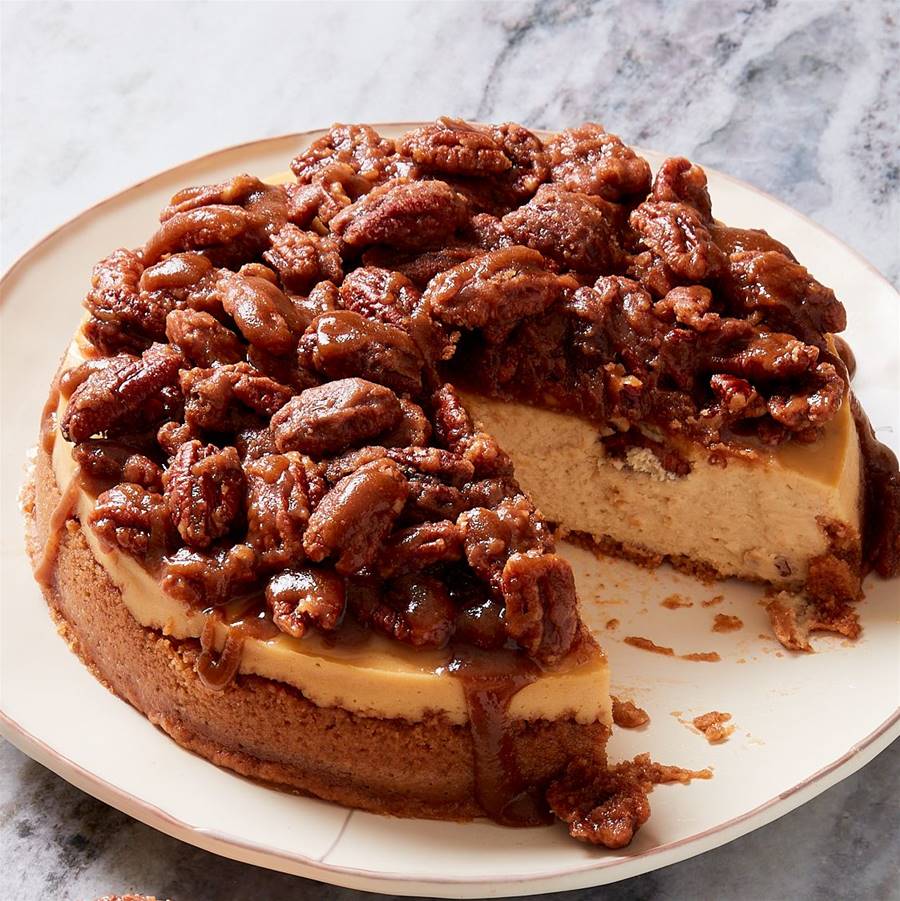 Step 4
Before serving, make pecan pie topping: In a nonstick skillet over low heat, melt butter and brown sugar until bubbly (keep heat low to avoid burning butter). Stir in cinnamon, heavy cream, pecans, and salt until completely coated, then remove from heat and let cool and slightly thicken. (You can make the topping up to an hour in advance and keep at room temperature; don't refrigerate as the butter will solidify.)
Step 5
Release springform pan from cheesecake and spoon over cooled pecan pie topping.