Jelly Roll opening CMA Awards with performance; Luke Bryan, Tanya Tucker and more appearing!
Nashville native Jelly Roll will open an event at which he is the most-nominated male artist with a performance of "Need a Favor," a song that in Dec. 2022, he "premiered" at his sold-out Bridgestone Arena concert.
Luke Bryan, K. Michelle, Little Big Town, Megan Moroney, Old Dominion, Carly Pearce, Chris Stapleton, Tanya Tucker and Lainey Wilson will also perform at the event hosted, once again, by Bryan and Peyton Manning.
The evening's most-nominated artist (with a record-sharing nine nods), reigning CMA Female Vocalist of the Year and newly-minted Wrangler spokesmodel Lainey Wilson, will perform "Wildflowers and Wild Horses," the latest track from her 2022-released smash hit album "Bell Bottom Country."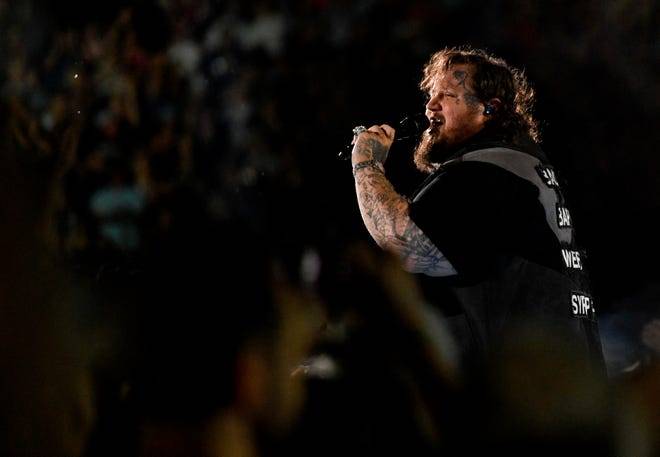 Recently, CMA Awards co-host Bryan was feted at downtown Nashville's Brooklyn Bowl for achieving 30 No. 1 singles. That party will continue to live onstage at the home of the Nashville Predators as the artist will sing songs including "Huntin', Fishin' and Lovin' Every Day," "One Margarita," "That's My Kind Of Night," "Play It Again" and "Country Girl (Shake It For Me)."
2023 three-time nominee Stapleton will perform "White Horse" from his forthcoming latest studio album, released on Nov. 10. Female Vocalist and Musical Event of the Year nominee Pearce will also take the stage to perform her acclaimed new single "We Don't Fight Anymore" with Stapleton.
Jelly Roll's second evening appearance will provide the mainstream TV country music debut of R&B-to-country crossover performer K. Michelle. The tandem will perform their Judds tribute album duet of Naomi and Wynonna Judd's 1990 hit "Love Can Build A Bridge."