Titans HC Mike Vrabel Inducted Into New England Patriots Hall of Fame
Titans Coach Mike Vrabel was honored by being inducted into the New England Patriots Hall of Fame. Vrabel, a former player for the Patriots, attended the ceremony over the weekend in Foxborough where he received his red jacket. Vrabel, who won three Super Bowl titles with the Patriots, was chosen by the fans earlier this year as the 34th inductee. He joined a prestigious group of players, including Troy Brown, Tedy Bruschi, Kevin Faulk, Ty Law, Matt Light, Willie McGinest, and Richard Seymour, who were all Super Bowl champions with the team and have been inducted into the Patriots Hall of Fame.
During the ceremony, Patriots Chairman and CEO Robert Kraft praised Vrabel for his leadership qualities and his contributions to the team. Vrabel was known as a mentor to younger players and a voice of reason in the locker room. His toughness, intelligence, work ethic, and versatility made him one of the franchise's all-time great players. Vrabel, who is now the head coach of the Titans, joined the Patriots in 2001 after playing for the Pittsburgh Steelers. He played a key role on defense during his eight seasons with the team, winning three Super Bowls.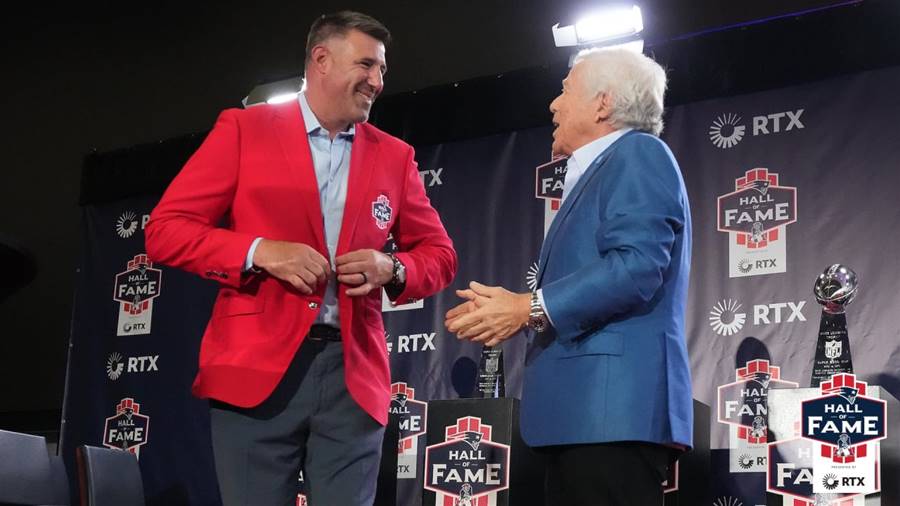 He also made an impact on offense, catching 10 passes, all of which were for touchdowns, including two in Super Bowl wins. In his speech, Vrabel expressed his gratitude for being a part of the Patriots organization and emphasized the importance of teamwork and accountability. He said he aims to recreate the special bond and atmosphere of the Patriots' locker room in his current coaching role in Tennessee. Vrabel's induction into the Patriots Hall of Fame serves as a reminder of the success and camaraderie he experienced during his time with the team and the valuable lessons he carries with him as a coach.